Hello! This is Dr. Zhang, Medical Director of Haven Elite Urgent Care. You may be hearing lots in the news recently about the "delta variant" – a mutated version of the coronavirus. In this article, I'll talk about what this variant is and how to protect yourself from it; namely, getting vaccinated and continuing to wear your mask.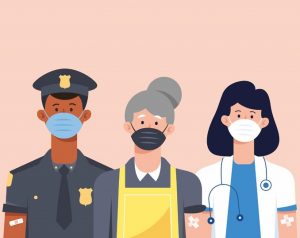 What is the delta variant?
As viruses replicate and spread over time, they tend to evolve into different strains. So, it's no surprise that the COVID-19 virus is mutating. The most recent mutation of the virus, however, is serious business. It's the fastest and the fittest version of the virus we've seen. 
"The delta variant is more aggressive and much more transmissible than previously circulating strains," said the Director of the CDC, Dr. Rochelle Walensky. "It is one of the most infectious respiratory viruses we know of, and that I have seen in my 20-year career."
The delta variant is spreading rapidly through the U.S. In fact, by the end of July, the CDC estimated that Delta alone caused more than 80% of the new U.S. COVID-19 cases. What makes this strain so contagious?
Well, people infected with the variant appear to carry a viral load more than 1,000 times that of those infected by the original virus. They may also carry this load for a longer period of time than the original infected person. This means that someone carrying the delta variant can spread significantly more viral particles. Both hospitalization rates and death rates have increased, which leads researchers to believe that the symptoms of Delta are more severe than those of the original virus.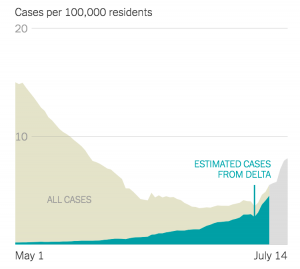 How well does the vaccine work against it?
The vaccine still works significantly well against the delta variant. According to a study in the New England Journal of Medicine, the Pfizer-BioNTech vaccine was 88 percent effective at protecting against Delta, nearly matching its 95 percent effectiveness against the original version of the virus. So, the vaccines appear to retain most of their effectiveness against the variant. Even if a fully vaccinated person does become infected with Delta, these infections tend to be mild or asymptomatic. 
Those who are not vaccinated, however, are at high risk. Take a look at the two sets of graphs below: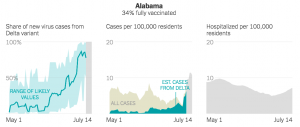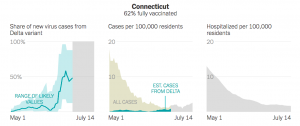 These graphs, published by the New York Times, compare the case numbers between Alabama, which has one of the lowest vaccination rates, and Connecticut, which has one of the highest. As you can see, the vaccinated population is protected from a large portion of the outbreak. Even more importantly, the hospitalization rate is much lower among vaccinated people.
Being fully vaccinated gives you a high degree of protection against infection, and an even higher degree of protection against severe illness, hospitalization, and death.
However, it's important to note that vaccinated people may still be able to spread the virus. Though they may not become infected or feel any symptoms, it is possible for them to carry just as much of the virus in their noses and throats as unvaccinated people. For this reason, it's important to continue practicing COVID-safety.
What can I do?
Get vaccinated. Encourage the people you know to get vaccinated. 
This is the most important step you can take to protect yourself from Delta. If you have questions and/or hesitations regarding the vaccine, you can read one of our previous articles about how the shot works and how safe it is. 
Face masks are another tried-and-true method of protection. They're equally effective against the delta variant as they are against previous strains of COVID-19. Also, while a vaccine shot can protect you, face masks are essential for protecting others. The CDC has even updated its guidance in July to recommend that both vaccinated and unvaccinated individuals wear masks in public indoor settings in order to help prevent Delta's spread.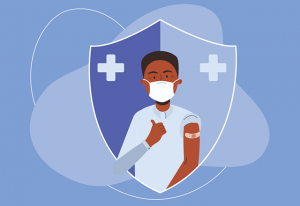 If you take the proper precautions, there is no need to worry. Protect yourself and your community by getting vaccinated. 
Thanks for reading, and, as always, stay safe!